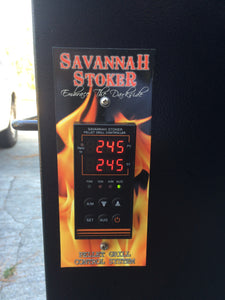 Savannah Stoker Pellet Grill Controller
Regular price $ 0.00 $ 199.00 Sale
Savannah Stoker Pellet Grill Controller v5
The most advanced PID based artificial intelligent temperature controller for Traeger and similar wood pellet grills that allows you to control your pellet grill with
"simplicity but infinite control".
Version 5 includes the controller, a grill temperature sensor, and the food probe.
If you own the Junior, Tailgater or Pit Boss  you will need to also order the offset box.
 FEATURES
Plug and Cook easy installation on most Traeger Pellet Grills. You'll be cooking in 10 minutes when using the existing temperature senor "RTD" and 30 minutes when replacing it.
1° Temperature Setting Range from 150°- 500°F. Note: Your Grill may not be able to reach 500° without modifications.
5-10°F Typical Temperature Swings when cooking above 250°F and 10-15°F when smoking below 225°F. Temp swings are not guarantee.
Cold Smoke Program. Run just the fan for cold smoking of food like fish or cheese using a Tube Type smoke generator. Add the 6" tube smoker to your order below.
Customizable Startup Program. Useful for controlling temperature overshoots at startup on small grills.
Auto-relight. The controller will attempt to relight the fire if the grill temperature drops too low below the set temperature. For added safety if it does not relight; the cool down cycle automatically starts.
3 Phase Cooking Program: Smoke, Cook, Hold. Set the time and temperature for each phase in the cooking process.
Food Probe: For use with the cooking program or standalone to monitor the food temperature.
GO GRILL! Press a button and the auger runs 100% for high temperature grilling.
Cool-down cycle. Fan runs until the grill temperature drops below 120°.
Temperature Calibration: User can set re-calibrate values for both the grill sensor and food probe.
220 Volt Compatible.
Celsius and Fahrenheit temperature display.
SPECIFICATIONS
The Savannah Stoker is a direct replacement temperature controller for most Traeger Wood Pellet Grills. The Junior requires an offset box. The controller will not fit in the Traeger PTG. It will also control most smokers made by Smokin Brothers, older Blaz'n Grills Works, older Royall Wood Pellet Grills (except the tailgater), Z Grills,  Pit Boss, and Smoke Daddy Pellet Pro. The Savannah Stoker maybe compatible with other wood pellet grills but may requiring modifications to the grill or wiring connectors.